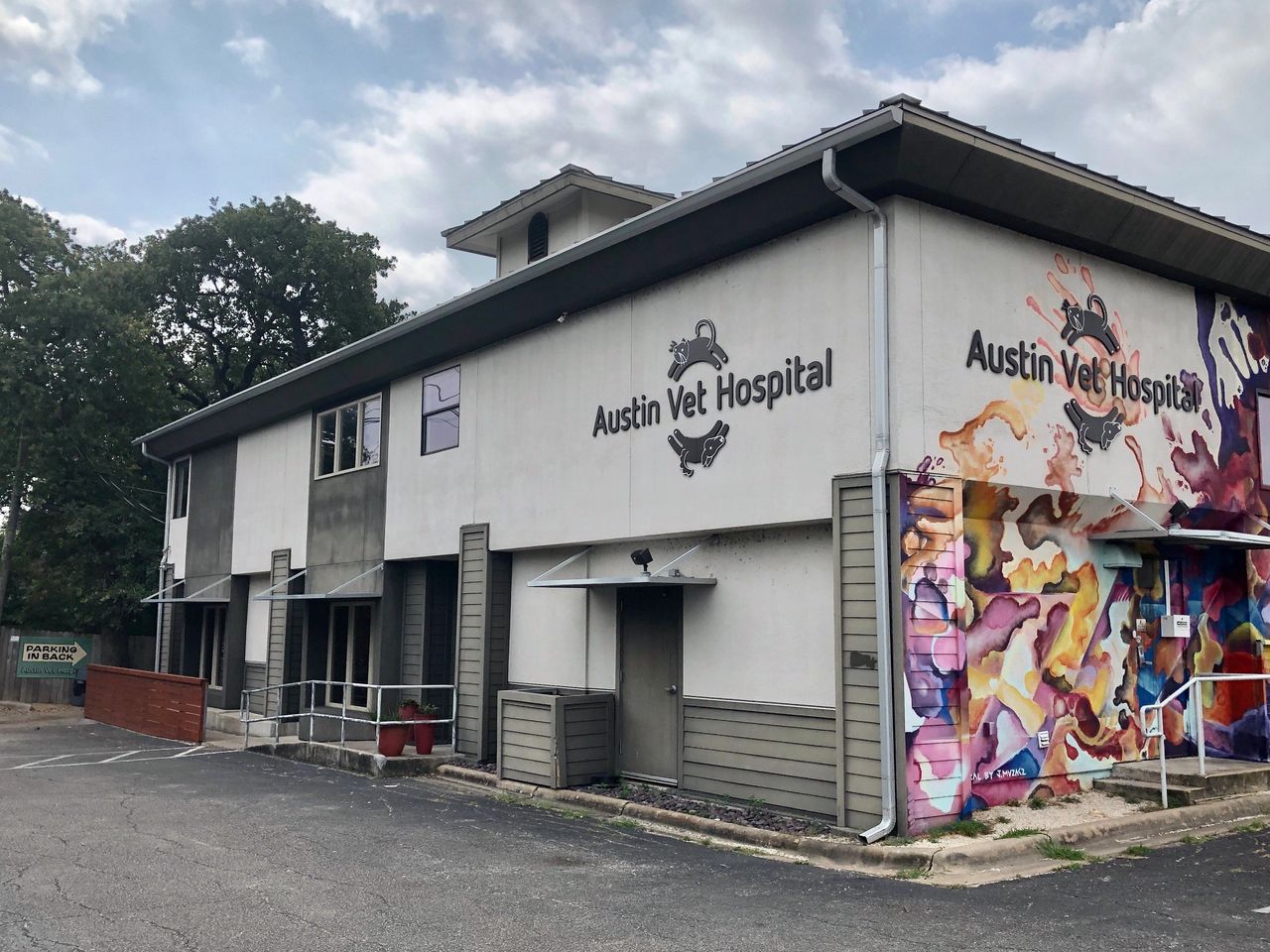 Do you love pets?
Come on now… you know you do. Everybody loves pets. That unconditional love, trotting to the door to meet you after a long day, those EARS and fluffy bellies! Pets can really make a home feel like home. You know they love you and you love to take care of them, but sometimes you may need a little help.
If you find yourself a current pet owner (or want to become one) and need a vet, Central Texas Vet Hospital is the best Central Texas has to offer. With a 50-year anniversary celebration coming in 2021, Central Texas Vet Hospital has the experience, staff, and the long-standing practice to remain dedicated to caring for your pet throughout its lifespan.
They offer care for cats and dogs, have cat condos for boarding while you are away, (older and less active dogs are also welcome), and focus on preventative care. With skills in diagnostics, surgery, and dentistry, AVH is always looking to add new friends to their community.
Of course given today's climate we want to pass on their current Covid-19 procedures from their website:
Curbside – Pull into a spot and call us (the back lot is shaded!). Your cat needs to be in a secure carrier, your dog on a leash and outside the car ready for hand off to a staff member. We will do all communication over the phone and return the pet to you when done.
In Clinic –  Only 1 client per appointment. You must be feeling well, fever free, and wearing a mask. We will maintain social distance which means the exam and treatment of your pet will happen in the back treatment room (we have windows so you can watch).
They can also do virtual diagnostic and prescription services via digital video services like zoom.
Look… I have always loved my pets and owning a home to give them has been one of my motivations to help others find homes. One of the perks of owning a home is that you get to decide what pet experience is right for you (even if it is living without one). So if you find yourself interested in living the homeowner dream, pet or no pet, please reach out to me and I will help.
And please check out the video interview above with Dr. TJ Palvino from the best vet Central Texas Vet Hospital or feel free to read the transcript below. You can also visit their website. Welcome to Central Texas Vet Hospital.
Transcript
———————-
[Kathy] Hey friends! It's Kathy Sokolic here with… my good friend Dr. TJ Palvino
from the Central Texas Vet Hospital
[TJ] Hello!
[KATHY]  So we're going to talk to him a little bit today about Central Texas Vet Hospital and the history and everything about it. So hey, Dr. Palvino!
[TJ]  Hey Kathy, how are you?
[KATHY] Doing as well as we can be in this crazy time pandemic situation, right?
[TJ] Yeah…
[KATHY] Yeah, so tell me a little bit about Central Texas Vet Hospital. Like, what's the history there?
[TJ] Okay, well, Central Texas Vet Hospital was founded in 1971, so… it is August of 2020, and next year will be 50 years for Central Texas Vet Hospital!
Yeah, which is a long time for a small animal practice, because in 1971 it would be pretty weird. You know, veterinarians at that time took care of everything on the farm, and cats and dogs were kind of like an afterthought. So it was one of the earliest small animal vet hospitals set up in Central Texas and… it was founded by a guy named Charlie Allison right on I-35. Which at that time, I think was really brand new, I-35 had just finished and it was over by St. David's hospital.  It just started, its first of many right… and it was a one vet practice and stayed that way for 25 years or so…
And Dr. Allison actually passed away and his vet hospital was just kind of sitting there, and… a woman named Dr Debbie Bash kind of took it over at that point and she kind of… ran it as a one-two vet practice for a number of years. Eventually… kind of as Central Central Texas and East Central Texas and all the redevelopment that started to happen. All the people that started to move in there was kind of an opportunity for growth and that's where I stepped in.
Dr. Bash worked with me for like a decade and we really grew the practice. Recently, well I guess it's not recent anymore, I guess it's like five years ago now… we moved  just about a mile north on I-35 and now we're six vets and honestly we could be seven or eight…
We've just kind of… as the area has grown but we continue to just take care of cats and dogs and just kind of focus on vet care of of our pets
[KATHY] …mm-hmm we've been going there for quite a while. We love all the vets there and the techs are amazing.
[TJ] Yeah, we have such good people you know and I like, not only like on the professional side, like I know they really know their stuff and they're all like tip top… really smart and qualified, but just more on the personal side, they're easy to talk to and approachable and relatable and they're people that you have to, kind of, be with day in and day out, so it's nice to have nice people to work with.
[KATHY]  Yep I agree… and do you guys do anything besides just straight up veterinary care do you ever board?
[TJ]  We do have… Kitty Condos for cats. We actually have a whole floor of the hospital, this little thing behind me, which doesn't quite work, [He points to the virtual background image of the hospital, which is a bit digitized], but the second floor doesn't have any… animals on it. It's just like a break room in offices and stuff, but we have Kitty Condos up there, so that cats… like, if so, if you're out of town for a week, we have these big multi-story… Kitty Condos, where cats can hang out. We do offer a little bit of dog boarding, but we don't have a big outdoor yard or anything like that, so we kind of tell folks our boarding is not great for young active dogs. They do better at a bigger place with room to run… but we tend to board , old dogs or dogs that are on lots of medicines, or, dogs that just want to sleep all day and get outside a few times for potty breaks. Yeah that's our boarding clientele yeah…
We don't have grooming. We don't have ancillary services, we're just doctors and we kind of just focus on that pretty much.
[KATHY]  Yeah that's great… so what made you choose the location just a mile north of the original one?
[TJ] Yeah, so I chose Central Texas Vet Hospital mostly because I lived in the area… I literally was down the street, and I more or less knocked on the door of Dr. Bash and said, "Hey are you looking for any… partnership?" And she was like, "Yes, please."… Because she was pretty overworked at that point. Once we decided that we needed a new space, the Austin redevelopment … the airport redevelopment was well underway… Airport boulevard was undergoing a renaissance and… I just started honestly looking for a place to rent and… the gentleman that had bought this building, which at one time was a church… had redeveloped it into offices and was trying to lease out the offices, and just wasn't having the greatest luck and… So it just kind of worked out that we needed a place. We were fine with being on the highway and he had this building that he was just ready to get rid of. So it worked out really great for us and there was a local builder who had done a few other animal hospitals. He kind of took this under his wing and did a great job with the design and the build out it… like came in on time under budget, which for anyone who's ever been under construction… it's amazing if you can do that.
[KATHY]  So that's neat, I didn't know that history. that's pretty cool. Do you have any really super memorable moments with a cat or a dog, that will always be in your mind?
[TJ]  You're gonna put me on the spot aren't you?
[KATHY] You don't have to…
[TJ]  It's weird because I always tell folks… you don't want the doctor to remember you and your pet. It's generally not a great thing if you know the name of all your doctors…right? Like… that means you're going way too often… but you know what?
I will tell you we've had a couple on the highway … and we've had…animals jump out of the arms of their owners in the parking lot and started to head towards the highway and, in fact, I have a receptionist that's been with the practice for, something like, 25 years, and she literally was on i-35 on the median with a net… capturing a cat that an owner was… "I don't want to put it in a carrier," and you know we're like please put it in a carrier and anyways, the cat got rescued, and you know, to this day we always joke about how if a cat gets loose, call Paula because she'll go get it back!
[KATHY]  Oh my gosh! That's insane. I think that's a really good note for people based on location. You need to leash your dog you need to put your cat in a carrier.
[TJ]  Yes. Well, I think people, like, I think cats are a good example… people think, "Oh my kitty's fine, she's so… she's so lazy and so happy-go-lucky." Well you're loading her in a car, bringing her… which is super scary enough, because that is not a normal part of a cat's life, and then bringing her to the vet, and you know, they're very stressed out. It's really unique for them and so we have to just keep it as safe as possible. We always want cats in a carrier… always want dogs on a good leash… not all loosey goosey neck that they can slip right out of… because that happens too.
[KATHY]   Yeah, I didn't know it's such exciting stuff.
[TJ]  We've had so many great clients and we have people where they've come to the hospital forever and then their kids come in with their first pet when they're older, and we have so many UT students that return when they're older. They're, like, oh we used to come here when we were in school, and now we're coming here now,  as a couple and whatever…and there's a lot of that, because it's been there for 50 years.
[KATHY] Oh wow, yeah.. that's amazing and you guys also have some specialty pet food too …"prescriptiony"?
[TJ] Yeah, so what we tell folks is we don't have any food for your pet, unless your pet has a special medical need. Then, you know, like if your cat's in kidney failure, we can hook you up. If your dog has allergies, we've got something for you, but if you just have a normal happy healthy animal, go to the pet food store.
[KATHY] Yep yep… good to know. Yeah, well, we really look forward to next year's celebration of 50 years!
[TJ] Oh… I'm gonna have to do something special.
[KATHY] Right, you should, We can talk about that offline… some idea…party ideas…
Is there anything else you want to share?
[TJ] Um… I don't know I guess… I'm just psyched that we've been a part of the community for so long and we're not going anywhere. We're all austinites… half of the the clinic lives right around the clinic… right around the hospital. We still have folks that walk to work, or ride their bike to work every day, and it's just cool… in this day and age to… to to be like that… and I think it kind of vibes with the whole… there's so many businesses in Central Central Texas and East Central Texas that… are going for the hyper local market.
[KATHY]  mm-hmm yeah that's the thing now like how local can you get? Yeah, we need to support all y'all guys… Oh one other question..
Are you guys doing anything different or unique during the covid times?
[TJ] So actually, this is my… I've been on multiple zoom meetings today… because we can do some veterinary care over zoom… so… basically the rules have been loosened a little bit for for all kinds of doctors that used to be, like… you really couldn't prescribe stuff or really do medical care over the phone or over zoom or anything… but because of Covid, they've kind of let us do more… Just earlier today, I had a client who was holding her cat up to her ipad to like show me this lesion on its on its muzzle, and i'm pretty sure it was an allergy lesion and so I prescribed drugs… based upon that zoom meeting…
But we're also more typically doing curbside. So i'd say the majority of our visits are kind of curbside and then… if the client has been feeling well and in a mask, we do let one person into the room and we maintain social distance and…, we feel like we're able to communicate a little better face-to-face but, everyone is taking this real seriously and we've been very lucky that we haven't had any Covid cases in our clinic, and we hope to keep it that way.
[KATHY] That's fantastic. Congrats on that.
[TJ]  That's it.Thank you.
[KATHY] Hard thing to be doing… Well, it's good to know you have not only our best interests, but our furry ones as well… for babies
[TJ]  |Yeah we're trying.
[KATHY] Yeah, you're doing great, you're doing great… yeah we go there personally so… I could also recommend you guys which is awesome.
[TJ]  Yeah how old is cliff
[KATHY] Cliff is uh oh…Cliff passed last year…
[TJ] I'm sorry
[KATHY] That's okay, he was old… he was 18 and a half…
[TJ] Okay we could round up to 19.
[KATHY] Yeah, he was an old man, almost a year ago now that poor sucker… passed… he was my best boy… and he went to Central Texas Vet Hospital for probably a solid 10 years.
[TJ]  I was going to say you guys visited the old place up the road as well, yeah?
[KATHY]  Yeah and now Biddy we take Biddy and she's nine.
[TJ] Okay, that's young.
[KATHY]  I remember when I went in, and you were, like, well Cliff is now senior… and I just started crying. I was… no he's not old. He's gonna live forever.
[TJ] It's all of us Kathy…
[KATHY]  I know…
[Laughter]
[KATHY] Me too, me too… I'm definitely, solid middle-aged now… things start going downhill… no…
Well thanks so much for spending time with us today Dr. Palvino and… I hope everybody can get out and keep, keeping your pets safe and healthy with their regular vet visits.
[TJ] Yeah, well thank you Kathy. Thanks for doing this. Yeah and… and you know, let me know if we can help you with anything else. Thank you.
[KATHY]  Okay… bye.